Hey local, when is the best time to visit Hue? Not without reason Hue brings a tormenting innermost feeling. That makes anyone who goes away will remember, anyone who first comes will fall in love too. Hue is a rustic, quiet and peaceful beauty. Such beauty spreads and becomes a reason why everyone has wishes to visit Hue once. They come to feel all the inside thoughts of Hue.
But Hue is also a "sour and scornful" girl. If does not understand, visitors will have to utter "Oh, how boring Hue is". Hue in any season is beautiful and be great to travel.  But when is the most appropriate time to visit Hue is what travelers have to find out first.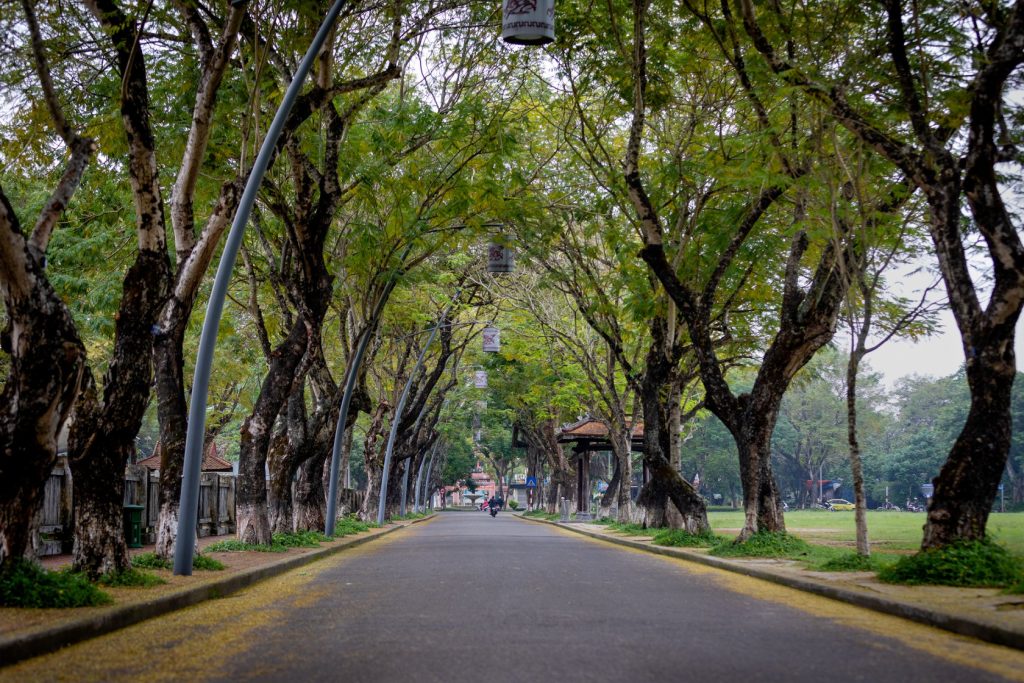 Spring in Hue – From January to March
Like other central provinces of Vietnam, Hue has two distinctive periods: rainy and sunny seasons. Rain in Hue is also a specialty of the ancient capital. However, if traveling to Hue in the rainy season, moving to destinations will not be convenient. Therefore, the spring in Hue is chosen as the best time to visit Hue.
Spring falls from January to the end of February and early March of the solar calendar. This time, spring is still flooding throughout Hue. Spring in everywhere is the same, the sky is fullest of sunshine. But, Spring in Hue has a very specific feature. This is the time of transfer between two seasons.
The cold wind begins to fade away, only somewhere spring raindrops are falling. Instead, sunlight begins spreading. Visiting Hue on this season, visitors will have the opportunity to gaze with veneration a Hue with warmness, the fullness of vitality and mixing with a timid and reserved attitude.
Especially, this time is the best time for visitors enjoying the spring, visiting the famous temples in Hue. They are Thien Mu Pagoda, Huyen Khong Pagoda, Tu Hieu Pagoda and the famous Bao Quoc Pagoda.  Spring colors of Hue help visitors feel the beauty of a royal land.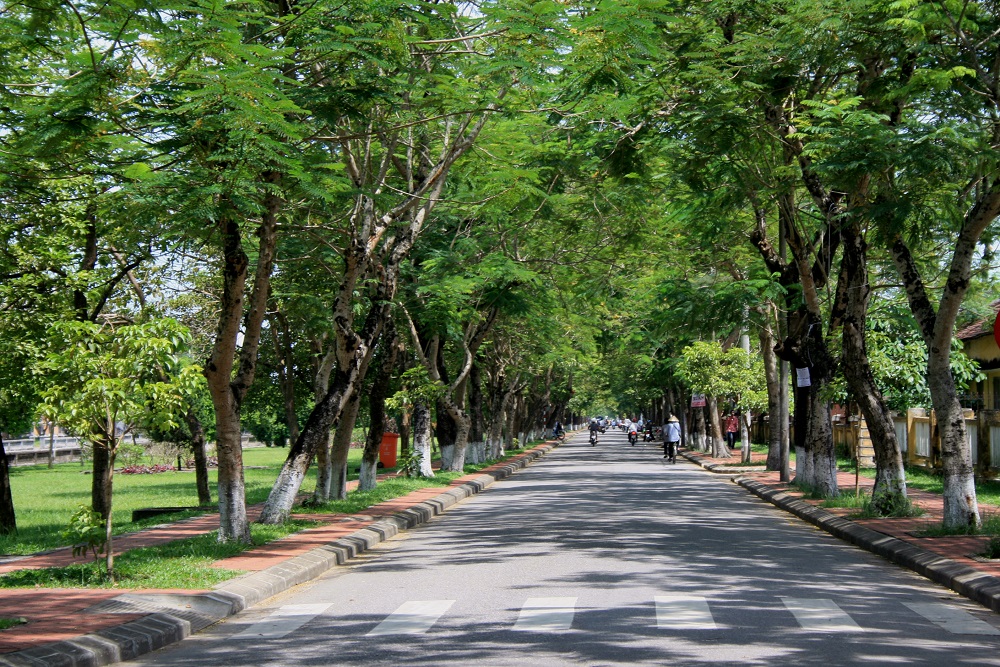 Visiting Hue during the festive season of April
Festivals are often the ideal time for visitors to visit tourist destinations. Through the festive seasons, regional cultural identity is expressed most clearly and most specifically. Hue is the same. If you want to fully enjoy the beauty of Hue, the time of Hue Festival in April is also an appropriate time
Hue Festival is a cultural and tourism festival of national and international scale. Hue It is held every 2 years.
Hue Festival has a different theme each year. It brings its own unmistakable beauty. Coming to Hue on this occasion, visitors not only have the opportunity to feel the inherent dreaminess of Hue but also they are immersed in cultural space – deeply imbued with identity
 The beauty from ancient times of Hue up to now is clearly shown. The colorful festive colors create a shimmering, seductive Hue.
Across the city, it is decorated with all kinds of lights, lanterns, creating a Hue both ancient and poetic. Festival is the time when Hue becomes bustling with many special arts and entertainment activities. Performances from local and international art troupes for a week bring a distinctive beauty.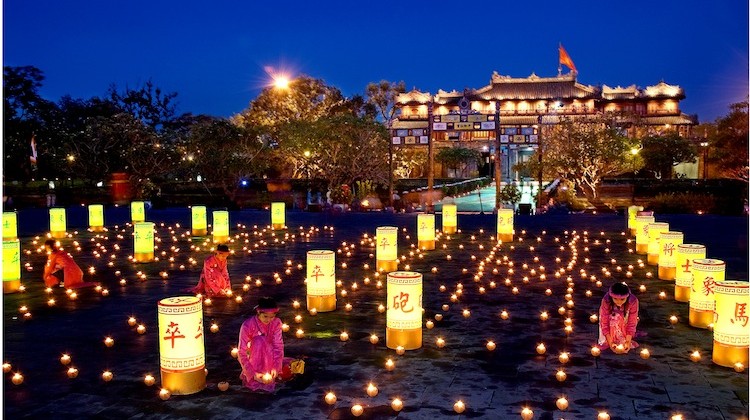 Visiting Hue in the Autumn of August
If you've never been to Hue for a long time, or just stopped by Hue, you probably won't feel the autumn of Hue as clearly as Hanoi.
But in fact, Hue also has a great Autumn days. But Autumn in Hue passed so quickly. Sometimes people in Hue have not even noticed, then it has passed.
Hue autumn falls around August. This is the beginning of the rainy season, but the rain is not much and the weather is sassy. 
Hue is inherently romantic, dreamy. Hue Autumn becomes more attractive with the scenery captivating people. The roads are full of yellow and purple flowers, with the faint aroma of passionate milk flower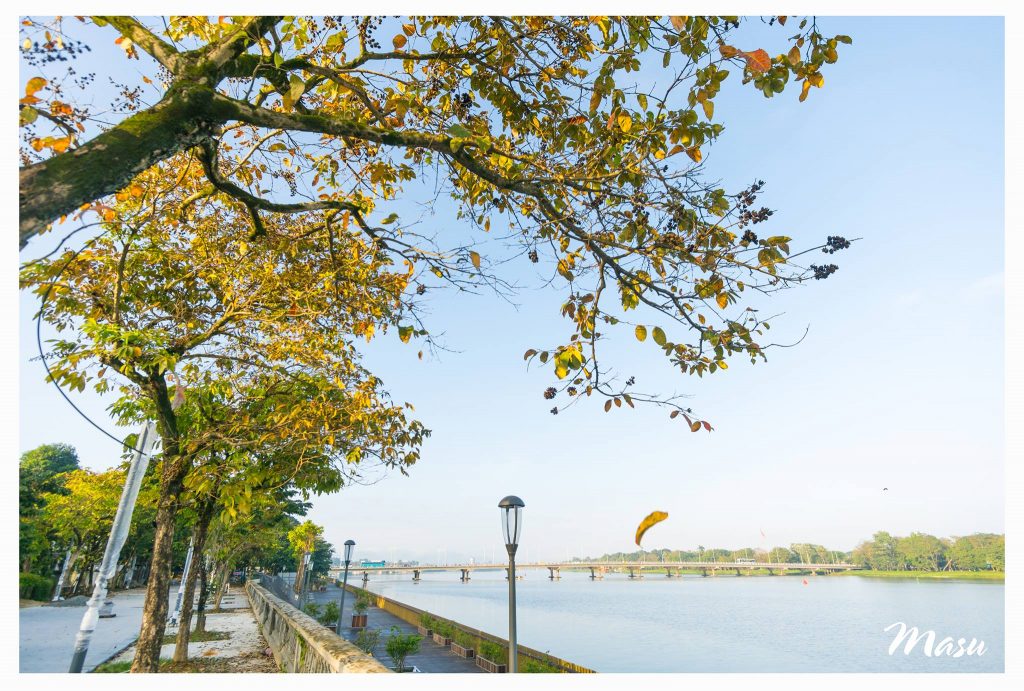 Autumn makes the Perfume River even more peaceful. Scenery, weather, climate of  Autumn make Hue more beautiful than ever. The beauty is both charming, romantic and deeply sad, solitary floating in the air 
Coming to Hue in the fall, tourists not only see the scenery through the rain. You can also hear the time passing slowly. For tourists who want to find peace in a poetic atmosphere, autumn is a good time to visit Hue.
Hue is always beautiful in the eyes of Hue lovers. But for those who first come to Hue, want to fully grasp the characteristics of Hue, choosing appropriate time to visit is a smart preparation. 
Hopefully, the article of "When is the best time to visit Hue ?" from us will provide useful information for visitors in the upcoming Hue discovery journey.