Hello, my name is Tony Hai, the Travel Advisor of Viettravelo. My biggest passion is traveling and I have set foot on every province in the country. In this article, I will share with you the ways to go to Ninh Binh from Ha Noi. Hope these sharing will be helpful for your upcoming trip to Ninh Binh.
How far from Ha Noi to Ninh Binh? What means are available?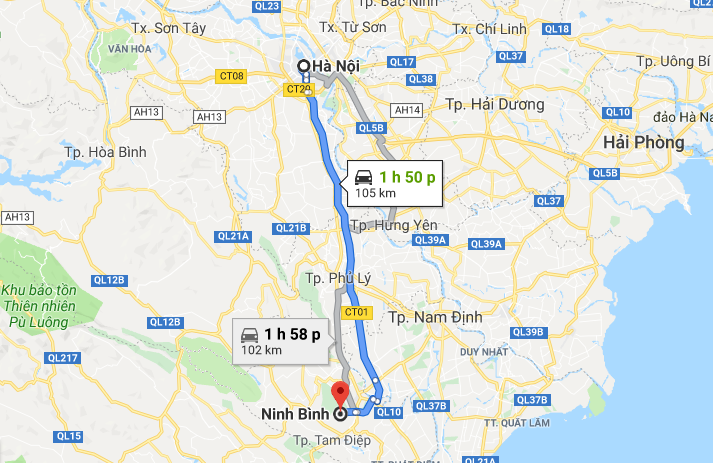 Ninh Binh is a province located at the southernmost gate of northern Vietnam, about 105km south of Hanoi. It is called the "Ha Long Bay on land" with some tourist ecosystems such as Trang An, Tam Coc and Mua Cave and is a place with a long history – the ancient capital of Vietnam. Recently, after the famous Hollywood movie "Kong Skull Island", The beauty of nature in Ninh Binh is better known in the country and the world.
From Hanoi, visitors can easily come to Ninh Binh by common means of transport like train, taxi, motorbike or bus. The distance to Ninh Binh is quite short and mostly highway, so you can go to Ninh Binh after only 1 hour and a half or 2 hours of traveling.
From Ha Noi to Ninh Binh by train
The train runs from Hanoi to Ninh Binhs daily. The train departs at Hanoi Railway Station (120, Le Duan, Hanoi) and stops at Ninh Binh Station (1 Hoang Hoa Tham, Thanh Binh Ward, Ninh Binh) ). From Ninh Binh station, you will have to hire a taxi or rent a motorbike to continue traveling to the tourist destinations, so be sure to find out information about motorbikes for rent or taxi prices to avoid passive situations. If you want to find train tickets online, go to the official website of Vietnam Railway Company: dsvn.com and book tickets, or you can go to Hanoi Railway Station to buy tickets directly.
From Ha Noi to Ninh Binh by private car / taxi / motorbike:
Motorbikes are always popular means chosen by many young people because the road from Hanoi to Ninh Binh is easy. From Hanoi city center, follow Giai Phong street, about 3 km from Nam Ha Bus Station, take 1 km left to go to Phap Van – Cau Gie highway and then head to Cau Gie – Dong Van – Phu Ly – Ninh Binh. From there, you will move to tourist destinations and don't worry, all the tourist sites have motorbike parking spots.
Taxis are also an option for those who want comfort and private space when traveling. However, this is an expensive and unsuitable option for many people.
From Ha Noi to Ninh Binh by bus
There are many bus brands for route: Ha Noi to Ninh Binh to choose from. Below is a list of bus brands we recommend:
Part of the day
Departure time
Bus brand
Type
Price
Phone number
In Hà Nội
In Ninh Bình
Morning
08:40
x
An Phú Qúy
Sleeper bus
100.000 vnd
1900 545555
06:30
14:30
Anh Vũ
Seater bus
70.000 vnd
 0916 600 733
07:30
02:20/05:30/15:20
Cát Lợi
Seater bus
70.000 vnd
 01692003388
11:30
x
Cúc Mừng
Sleeper bus
100.000 vnd
 0984935777/0975977702
Afternoon
14:00
x
Đông Chín
Seater bus
80.000 vnd
 0912491587
14:30
x
Đức Trung
Seater bus
72.000 vnd
0944391688
Evening
19:00
x
Hải thắng
Seater bus
70.000 vnd
0912811079/0912353967
19:30
x
Hoàng Long
Sleeper bus
150.000 vnd
0225 3920920
21:00
x
Mận Tịnh
Sleeper bus
100.000 vnd
0967788803
Or you can go to Ninh Binh by Limousine cars below:
| | | | |
| --- | --- | --- | --- |
| Departure time in Ha Noi | Bus brand | Price | Phone number |
| 06:40 – 17:40: 1 hour/trip | X.E Việt Nam | 135.000-165.000vnd/ ticket depending on the destinations | 19001731 |
| 04:00 – 22:00: 1 hour 20 minutes/trip | Bình Minh | 130.000 vnd | 0984 888 607 |
| 05:30 – 20:00: 30 minutes/trip | Khánh An | 160.000 – 350.000vnd/ticket depending on the pick-up points | 1900 7070 |
| 05:50 – 19:50: 1 hour/trip | Tràng An Limousine | 135.000 – 340.000 vnd/ ticket depending on the destinations | 1900 0336 |
How to buy Hanoi bus tickets to Ninh Binh?
You can choose one of two ways to purchase tickets:
Buy direct bus tickets
You can go to Nuoc Ngam / My Dinh bus station, or your car's Hanoi office and buy tickets directly. However, this is quite inconvenient because you will have to move to the bus station yourself and may have to wait a long time, unable to catch a satisfactory or low-priced bus ticket. To avoid that, you can book a car ticket through the reception at your place of residence, or call the car directly to book, so it will be faster and more convenient.
Book tickets online or through a reputable dealers
There are many convenient booking websites such as vexere, 12go.asia, saodieu.vn, … You can access the website, enter the departure point, destination and departure date to choose the desired ride. A very convenient way is that you can contact the Earth Travel (+84 936 345 111) to book a car ticket according to your request and do not need to pay in advance.
Thank you for reading my article "How to get from Ha Noi to Ninh Binh". Have a nice trip. If you find the article useful, please share and rate 5 stars for me.