Hello, my name is Tony Hai, the Travel Advisor of Viettravelo. I just discovered Ban Gioc waterfall this morning. In this post I will guide you to travel Ban Gioc waterfall easily. Hopefully, these shares will help you have the most wonderful trip to Cao Bang.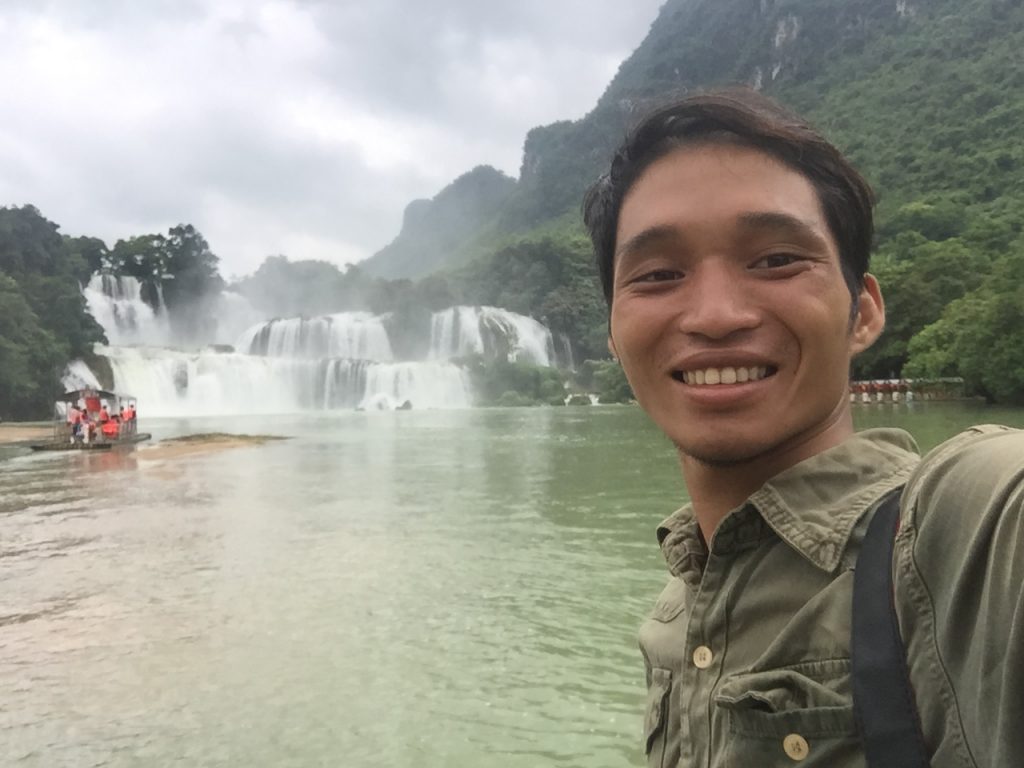 Where is Ban Gioc Waterfall?
Ban Gioc is one of the most beautiful waterfalls in the Tonkin Gulf as well as Vietnam. Moreover, it is in the top of 10 largest waterfalls in the world. The waterfall is located in Dam Thuy commune, Trung Khanh district, Cao Bang, about 400 km from Hanoi and about 100 km from Cao Bang City. Ban Gioc Waterfall is one of the certain places not to be missed when traveling to Cao Bang as well as the North of Vietnam
Standing in front of the most beautiful waterfall in Vietnam
I came to Ban Gioc Waterfall in the morning on the journey to Ha Giang Cao Bang  5 days 4 nights. Not witnessing the beauty of the waterfall with thousands of water flowing into the blue river as in the legend but it is enough to make me extremely "voyeuristic" with its majesty. Then, I exclaimed Vietnam Amazing. The more I go, the more I love the beauty of my homeland
Tickets to visit the waterfall: 45 000 vnd (including sightseeing tickets and 5 000 vnd insurance fee). Price to send motorbikes in front of the entrance is 10 000 for motorbike, 20 000 for car. In addition, you can buy raft ticket 50 000/ person to admire the grandeur of the waterfall closer.
I had a quick talk with a Nepalese tourist: "Travelling with you on a trip to Northern Vietnam, I must say that I was amazed at the wild and majestic beauty of your country. Although there are many similarities with our landscapes of Nepal, but it brings many unique points and hidden beauty. Thank you so much for this meaningful trip. Please promote, you made me love Vietnam so much".
Attractions nearby
About 3km from Ban Gioc, there is Truc Lam Temple and Nguom Ngao Cave. These are places you should not miss on your schedule.
Buddhist Temple of Truc Lam Ban Gioc.
This is the first temple built at the northern border of the country. The Buddhist temple of Truc Lam Ban Gioc is located about 500m from Ban Gioc waterfall. From this temple, you can see the entire Ban Gioc and a large space below.
Nguom Ngao Cave – A Gift of Mother Nature.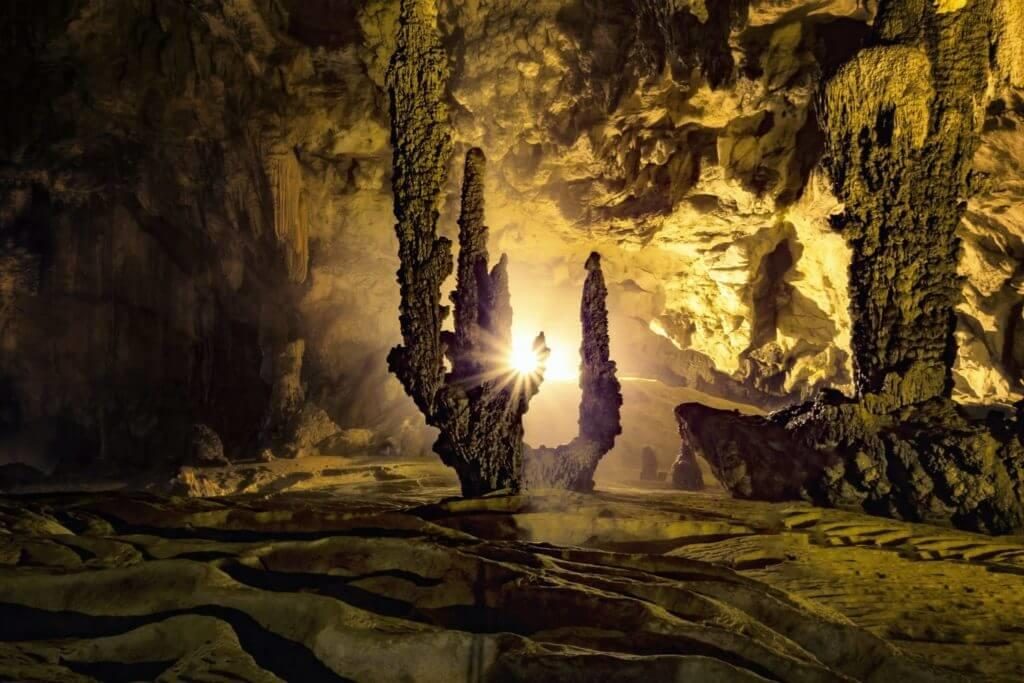 The cave is 2,144m long and about 3km from Ban Gioc waterfall. Time to visit in the cave is about 1 hour. Entrance fee is: 35 000 vnd / adult. (30 000 scenic tickets and 5 000 insurance).
When is the ideal time to visit?
Cao Bang's climate is divided into 2 distinct seasons: the rainy season lasts from April to September and the dry season lasts from October to March next year. If you intend to travel to Ban Gioc, you should go around August-September, at this time many waterfalls will be very beautiful.
In the summer, the hot sun can make you a little tired.  However, Cao Bang tourism in the summer also has its own interesting. You can hide the sun on the immense mountains and get some fresh air. Especially the summer is also the ripe plum season. Coming here this time you will be able to enjoy the plum and orther summer fruits in this border region.

You can go here at the end of the year (around November -December) to enjoy the flowers because this is the Buckwheat Flower season (same with the Buckwheat Flower season in Ha Giang).

If you like seeing the snow and ice, you should go in the winter (late last year to early next year). This time in northern forest the temperature drops, so the frost is likely to occur.
How to get to Ban Gioc.
It is quite far from Hanoi capital so the best way to travel Ban Gioc is to take a Hanoi-Cao Bang bus and then you should rent a motorbike to explore all of Ban Gioc.
In the center of the city, there is a clear sign of Waterfall and on the way you will go through areas such as Ma Phuc Pass, Quang Uyen, Trung Khanh. You can also take the Cao Bang – Ban Gioc bus to depart continuously during the day.
Note: This route is pretty nice, but there are many trucks and container trucks, so you need to ensure the speed and rules of passing cars.
Where to stay when visiting Ban Gioc?
There are many types of accommodation for you to choose from Homestay, hostel to hotel. There are 2 zones to choose from, depending on your transport and schedule.
Stay in Tp. Cao Bang and rent a car to visit the sights then come back in a day.

Ban Gioc has Khuoi Ky tourism culture village, there are many homestays for you to choose. I used the house of Mai Linh Homestay because I was a guide for her a year ago. In addition, the homestay preserves the cultural traditions of the Tay here, as well as the "understanding" of what guests need. There will be a review of this homestay on another post. Ms Linh phone number 096 161 81 11. Another plus point is that she is a local person who will help you have useful information when you travel here. 
My thanks
My thanks
Thanks for your reading my article about Ban Gioc Waterfall, Cao Bang -Tourism experience from travel locals. Please LIKE and SHARE if you want to support to me and other visiter