Hey everybody, I'm Tony – the local tour guide in Ha Giang. I have been working as an easy rider in Ha Giang for 4 years, hence I am lucky enough to enjoy the beauty of Ha Giang in 4 different seasons. In this post, I am going to share with you the best times of the year that you should pack your bags and travel to Ha Giang.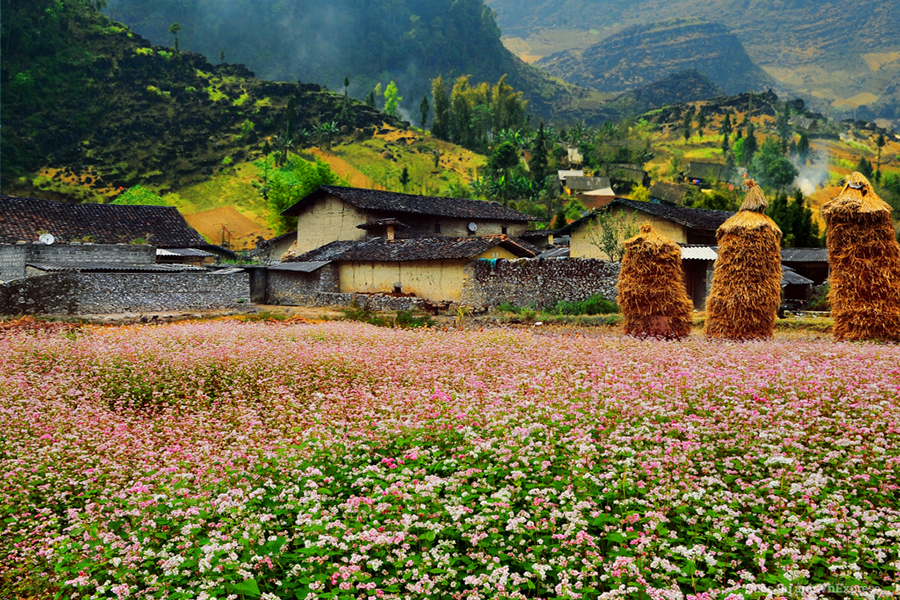 Where is Ha Giang?
Located 320km from Hanoi capital to the North, Ha Giang is the destination with the wild and majestic beauty of Viet Nam. It is where you must go when you come to Vietnam.
It can be said that Ha Giang is beautiful all year round. You can go there at any time of the year because each season offers different beautiful scenes and different interesting experiences. In spring it is a light pink color with cherry and plum blossoms, summer is a green patch of cornfields, autumn is painted yellow with terraced fields, the different kinds of flowers that blooms here in the winter will make the tourist linger on the place.
Spring – Flowers bloom through the stones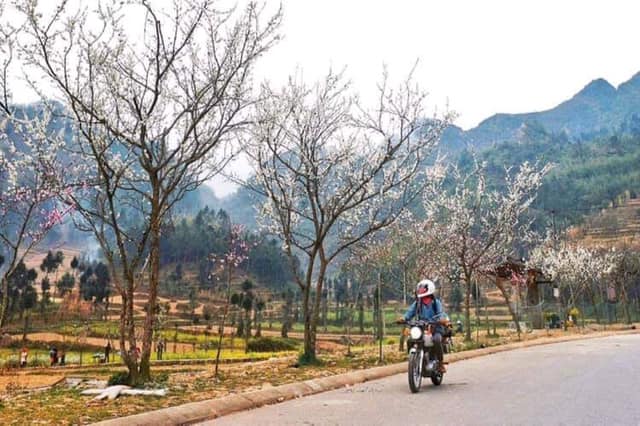 Spring in Vietnam falls around February, March, and April. During this time, the weather in Ha Giang is extremely cool, the temperature is about 15-23 degrees Celsius. There are times when the weather is as cold as the winter with the temperature dropping to only 7-13 degrees C.
It can be said this is the best time to come to Ha Giang, Vietnam. You can enjoy a cool climate and enjoy the natural beauty when various kinds of flowers bloom on the rocky mountains.
In early February in Vietnam, there is Tet holiday. If you travel Vietnam at this time, it will be great. You can enjoy the traditional  TET with the locals here. Tet is one of the most important and special holidays of the year to Vietnamese people and it lasts from December 23rd to January 15th according to the lunar calendar.
At the end of March (late night of march 26th and early morning of March 27th ) Ha Giang holds Khau Vai Love Market festival. It is one of the most unique markets in Vietnam where people can meet up with their lovers or even their exe's.  The market has been held for hundreds of years on this land.
Summer – Green vitality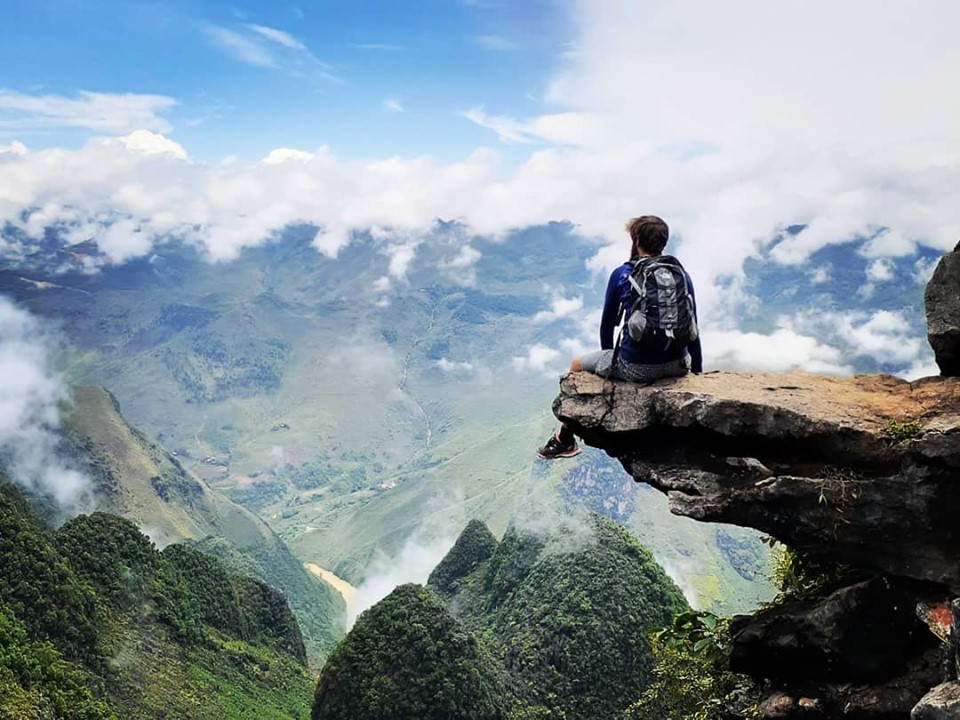 Summer in Ha Giang falls from May to April, at which point the temperature is slightly higher than the spring. However, it is still quite cool, the temperature is about 25-30 degrees C. In the highlands like Dong Van at night, it can fall to 20-23 degrees Celsius. In particular, there are occasional rains during this season, giving Ha Giang summer fresh air. Visiting Ha Giang at this time, you can not only admire the beauty of green cornfields but you can also enjoy the beauty of white clouds floating in the sky after the rains.
If you encounter heavy rain and storms, delay the trip and wait for the bad weather conditions to cease. Heavy rains are highly dangerous for travelers in mountainous areas like Ha Giang. If you need further details about the weather as well as travel plans in Ha Giang, you can inbox Ha Giang Backpacker via Whatsapp, we will try our best to help you.
In the beginning of May according to solar calendar, you can admire the terraced rice fields in the pouring water season in Hoang Su Phi – a western area of Ha Giang.
Fall – Yellow season of Ha Giang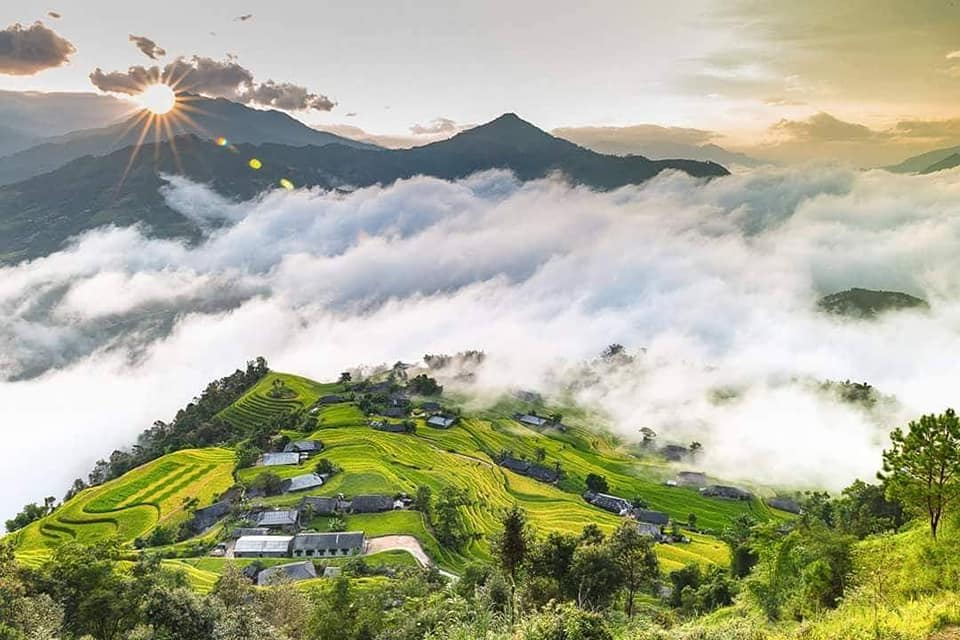 Fall in Ha Giang falls in September, october, and november , which are the coolest months of the year, not as cold as the winter, nor as hot as the summer. The average temperature is about 18-23 degrees Celsius, sometimes it falls to 13-15 degrees Celsius in Dong Van Stone Plateau.
Traveling to Ha Giang in the fall, you can admire the bright yellow terraced fields which look just like the magnificent mango wave in the west of Ha Giang – Hoang Su Phi. Moreover, this is also the season of special flowers called "Buckwheat flowers" which is very popular with Vietnamese tourists.
Winter – Local life on the rocky highland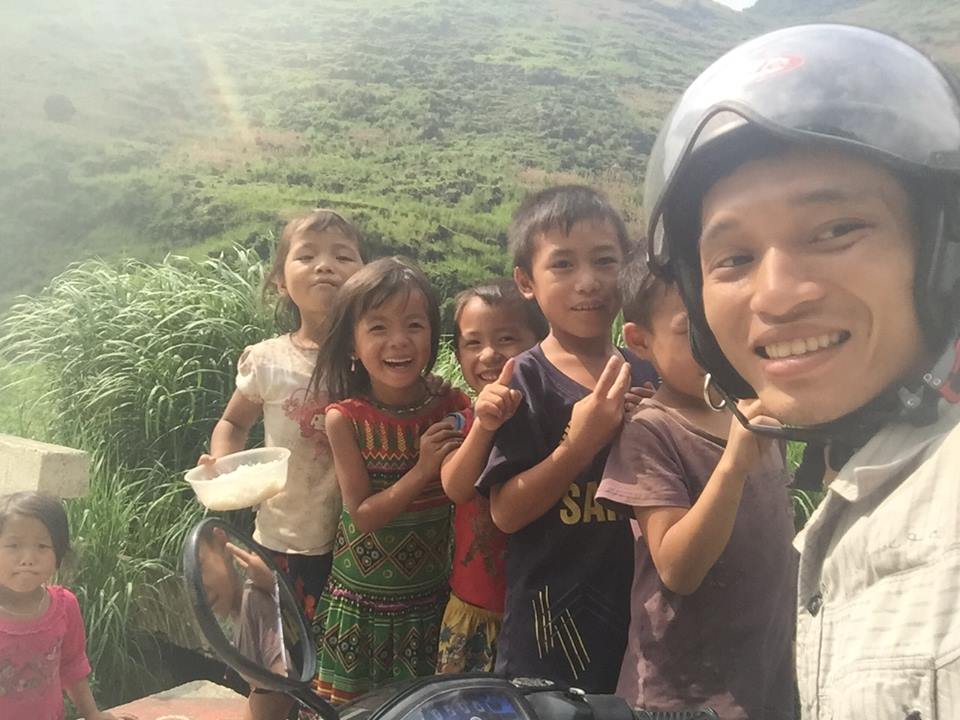 Winter in Ha Giang falls in December, January and February. It is the coldest time of the year, the average temperature is 8-13 degrees Celsius, there are times when it falls to minus Celsius and snow falls. Although the winter is not as colourful and lively as spring, summer and autumn, it is quiet, mysterious and strangely attractive to the tourists.
Thank you for reading this post "when is the best time to visit Ha Giang" written by me. If you meet any difficulties in making your travel plans to Ha Giang, finding hostels, renting motorbikes… You can leave a comment below the post. If this article is helpful for you, please like and share it.