Hey guys, I am a local guide in Hue. In this post, I will share you top 10 homestays in Hue latest update 2019. I hope this information would be helpful to your next awesome trip to Hue.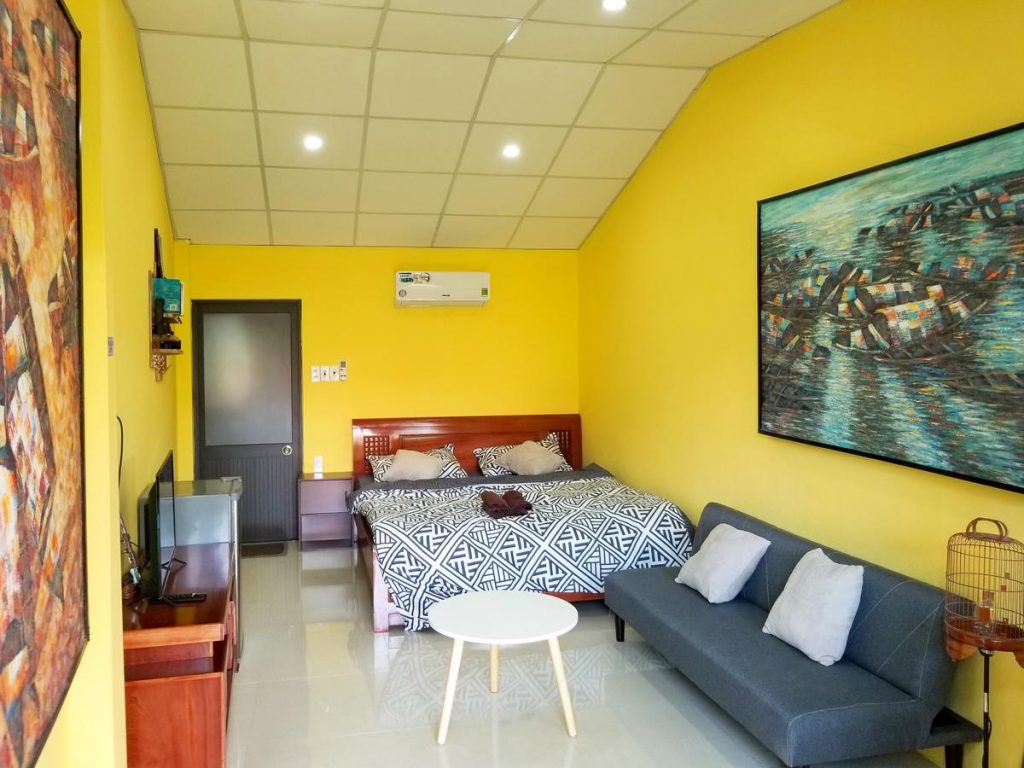 Where is Hue city?
Hue city is the capital of Thua Thien Hue province in Central Vietnam. It is 700 km southern Hanoi, 1100km northern Ho Chi Minh City. It's located on the bank of the Perfume River. In addition, most well-known for its historic values, Hue had been recognized as one of the World Heritage Sites by UNESCO. Hue has enough charm to keep you staying as long as you can afford the time to visit.
Why choose a homestay in Hue when you traveling?
When you are traveling and stay homestay, you could engage with local people. They are often work in other industries and have a specific interest outside of traveling. They could give you a recommendation about the unique insight into where you will go stay. The second reason why is you could eat with the family. You could home-cooked meal with the host. You can eat with your host and that's an opportunity to learn local dining habits. The other reason is the different perspective on Vietnam life and the last why is location away from the tourist area.
Top 10 beautiful and nice homestay in Hue to stay
1.The Purple Hue Homestay
This is the beautiful homestay in Hue you must try to stay. You will live daily life a Hue family inside The Imperial City. It's also very close to main tourist attractions like Purple Prohibited City (500m, 5min walk), Thien Mu pagoda (10 minutes cycling), Perfume River (800m, 8mins walk). You will have breakfast and Vietnamese coffee, tea. The room is cozy, comfortable and well equipped. The host are working in are both working in international NGO for decades so you would find no communicative difficulty in English. They also let you know where to respect your privacy like a hi-end hotel. Especially, the host will see you as a new friend, not a guest.
Address of The Purple Hue Homestay: Room 1, row 14, Xa Tac communal zone, Ngo Thoi Nham street, Thuong Hoa ward, Huế, Việt Nam
2. Bamboo Homestay in Hue
Homestay is close to the railway station (500m) so you could walk to here. The room was large and airy and had a double and two single beds. This place is very nice and peaceful. Also well located. The rooms are big enough, clean and light. The host is very lovely and kind. She helped you to arrange anything we needed (motorbikes, laundry, taxi to the airport). The host also give you recommendations around Hue.
Address of Bamboo Homestay: 56B, Dien Bien Phu, Phuong Duc Ward, Hue, Vietnam.
3. Ana Homestay
From this Ana Homestay, it is very easy for you to discover local daily life. You could also to take a tour to other landscape nearly like Nam Giao Esplanade, Tu Duc King Tomb, Minh Mạng King Tomb. All you need is a bike and you can ride to these sites by yourselves. Bike and motorbike are available but chargeable. Hosts can offer complimentary light breakfast at their discretion. All other meals will incur an additional cost. Meals and any additional payment should be arranged directly with your host.
Address of Anna Homestay: No.5, Alley 12, Dang Huy Tru street, Hue, Vietnam.
4. Hillside Homestay Hue
This is a Beautiful homestay in Hue. It's built on a hillside with a cool breeze from the hill, Tuong Van area.  The balcony behind and in front of the house provides a breathtaking view of the whole city at night.  There is a lovely and big garden for you to enjoy any activities at Hillside. With perfect Location, surrounding with many different Pagodas, It is very easy for you to discover local daily life, local food or to take a tour to landscape nearby such as Nam Giao Esplanade, Tu Duc King Tomb, Khai Dinh King Tomb or just sneak down to the Local market Ben Ngu to try to be normal local person.
Address: No.8, Alley 11, Tran Thai Tong, Hue city.
Cost: from 300.000 vnđ/night
5. T'Garden Homestay.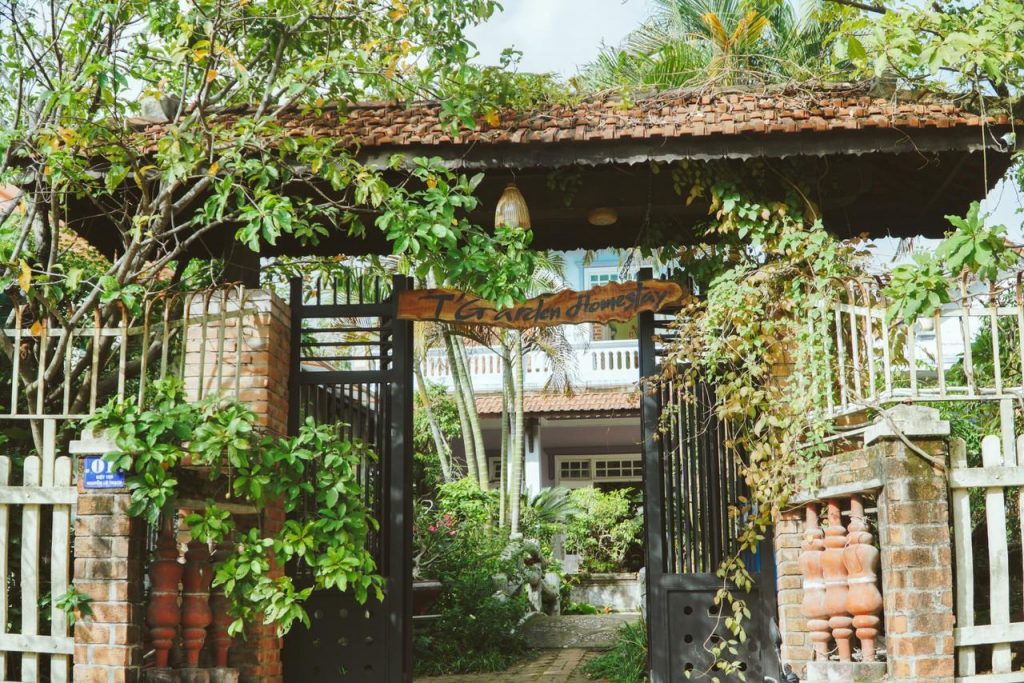 This homestay is located in a small road near Hue city. It's has a beautiful bridge and gardens that are always full of flowers. Each room is individually decorated here, harmony between nature and people. Each room has a window and a small balcony, where you can relax comfortably and sip some tea or coffee and then see the garden of Hue. It's far 4 km from Trang Tien Bridge, the property is also 4.3 km away from Dong Ba Market. Guest rooms in the hotel are equipped with a flat-screen TV. The rooms include an electric teapot, while selected rooms also feature a kitchen with an oven, a fridge, and a stovetop.
Address: No.163 Nguyen Lo Trach, Hue city
Cost: from 250.000 vnđ/night
6. Deja Vu homestay
This nice homestay in Hue located 3.1 km from Trang Tien Bridge. Museum of Royal Antiquities is 3.4 km from the accommodation, while Dong Ba Market is 3.4 km away. The nearest airport is Phu Bai International, 16.1 km from Deja Vu homestay, and the property offers a paid airport shuttle service. If you stay here, you could be found at Deja Vu homestay a warm communication. The decoration in here also helps you feel like your home. The peaceful with the birds sing in the morning, the relax time with reading book in the living room beside the good coffee with sweet-smelling.
7. Codo Homestay
This is a small little homestay in Hue, located 2.9 km from Trang Tien Bridge. It's basic hostel with basic facilities. Good to take a break from the busy hostels. You get to feel like a local living with this super nice family of Codo Homestay. You could rent motorbiked for a very good price. Beside, Codo Homestay offers a Restaurant, a garden and air-conditioned accommodations with a patio and free WiFi.
8. Lagom Homestay
The building is new and beautiful decorated. Located on Huong's River edge on the peaceful Trinh Cong Son. This homestay is not a place to meet traveller but also a great chance to meet local people. The host is happy to show you how to cook a meal.  Besides that, the host also holds a community craft which guest could participate in for a small fee.
Address: No. 196 Trinh Cong Son street, Phu Cat ward, Hue city.
Hue is very beautiful and peaceful and we think you will love it. We are looking forward to welcoming you soon. Thanks for your reading the article 8 best homestays in Hue Vietnam written by me.