Hello, my name is Tony Hai, the founder of Viettravelo. My biggest passion is travel and I have set foot on every province in the country. In this article, I will share with you the ways to go to Cat Ba from Hanoi. Hopefully you'll find these sharing helpful for your next trip to Cat Ba.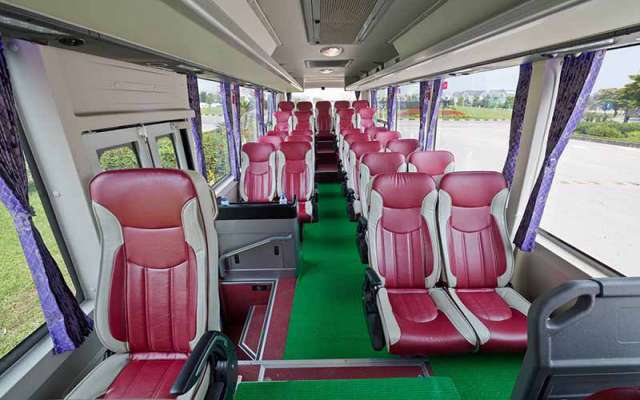 How far is Cat Ba from Hanoi? What means of transport are available?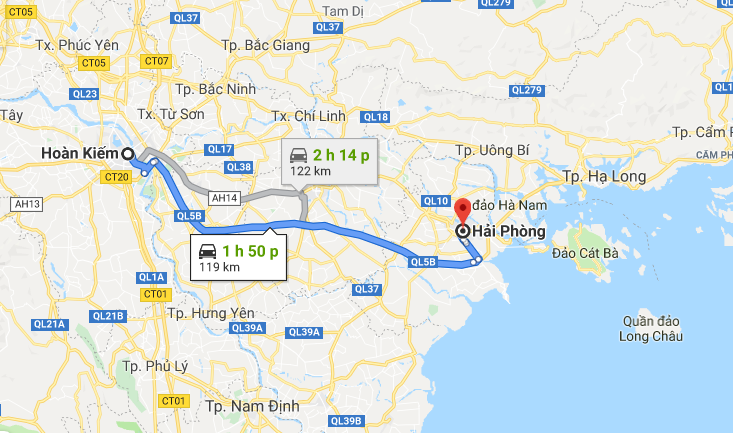 From Hanoi, you must go to Hai Phong and continue to Cat Ba
Cat Ba belongs to Hai Phong province, Vietnam (also known as Ngoc Island) is one of the most beautiful islands in the Gulf of Tonkin. Cat Ba . The beauty of mountains and beaches here is great for those who loves exploring nature.  Cat Ba has white sand beaches, stretching along the cliffs near the sea. Interestingly, between the two beaches there are trails through the cliff, close to the sea, very beautiful. You can walk along those roads, and see the beautiful beaches and coastline below. In addition to admiring the natural beauty of Cat Ba, you can also have many interesting experiences such as: Trekking Cat Ba National Park, visiting Robison Island (Wild Island), kayaking , sightseeing on the monkey island…
Cat Ba is about 160 km from the center of Hanoi, can be divided into 3 stages: 2 roads (from Hanoi to Hai Phong and from Hai Phong to Cat Hai Island), a sea crossing to the center of Cat Ba Island. From Hanoi, visitors can go to Cat Ba by train, private vehicle or bus.
From Ha Noi to Cat Ba by train:
You will take the train from Hanoi to Hai Phong station. Next, you have to catch a taxi to Bình dock (if traveling by speedboat) or Đinh Vũ ferry (if you take a ferry). You will have to go through Tân Vũ bridge if you choose this way. After that, when going to Cat Ba, you will have to hire a taxi to go to the tourist spots here. This is quite expensive and not suitable for those who want to save money. To book online train tickets, go to: dsvn.com to find the appropriate train ticket!
From Ha Noi to Cat Ba by private car / taxi / motorbike:
As mentioned, to go to Cat Ba you have to go through 3 stages, so driving a private car is a popular way. You can also rent a car if you don't have your own car. This is a convenient and economical way to travel because you will not need to hire a taxi to travel when you arrive in Cat Ba. Moreover, you can schedule your trip and be more flexible.
When going to the mainland of Cát Hải island, you will take a ferry from Gót station to Cat Ba. Rest assured that ferries carry both passengers and cars. This will be an interesting experience because you will have the opportunity to admire the poetic natural scenery from over Ferries. The fare from Gót station- Cái Viềng ferry for cars is 190k / car, for passengers is 12k / person, the frequency is 30 minutes/ trip.
Motorcycles will be a good choice for those who like to explore. However, the distance from Hanoi to Cat Ba is quite far, so be prepared for your trip to avoid fatigue and risks on the road!
From Ha Noi to Cat Ba by bus:
You take a bus from Hanoi to Hai Phong first. When you come to Đình Vũ, you have to change the car to a speedboat to Cái Viềng ferry (belonging to Cat Ba), then you have to go to another bus to move to the center of Cat Ba. Here are some bus companies Hanoi to Cat Ba that the Travel Advisor suggests for you:
Part of the day
Departure time
Bus brand
Type
Price
Phone number
In Hà Nội
In Cát Bà
Morning
10:30
09:00
Good morning Cát Bà
Seater Bus
240.000 vnđ
091 309 62 81
8:00
07:00
Daiichi Travel
Seater Bus
250.000 vnd
 024 6654 7070
07:30
09:00
Cát Bà express
Seater Bus
300.000 vnd
 0848 244 999
07:40
13:10
Orient travel
Seater Bus
230.000 vnd
024 6259 8990
Afternoon
14:30
13:00
Discovery Travel
Seater Bus
280.000 vnd
024 2218 3282
14:40
12:30
Daiichi Travel
Seater Bus
250.000 vnd
 024 6654 7070
How to buy bus tickets from Ha Noi to Cat Ba
You can choose one of two ways to purchase tickets:
Buy direct bus tickets:
You can go to Nuoc Ngam / My Dinh bus station, or the car office in Hanoi and buy tickets directly to Hai Phong. However, this is quite inconvenient because you will have to move to the bus station yourself and may have to wait a long time, unable to catch a satisfactory or low-priced bus. To avoid that, you can book a car ticket through the reception at your place of residence, or call the bus company directly to book the tickets. That way, it will be faster and more convenient.
Book tickets online or through a reputable dealers
There are many convenient booking websites such as vexere, 12go.asia, saodieu.vn, … You can access the website, enter the departure point, destination and departure date to choose the desired ride. A very convenient way is that you can contact Tho Dia travel to book a ticket at your request and do not need to pay in advance.
Thank you for reading our post: Hanoi to Cat Ba. Have a nice trip! If you find the article useful, please share and rate it 5 stars