Hello, I am a local guide in Hue. In this post, I will give you the information needed traveling to Da Nang from Hue. Included in this article you find bus timetables, the routes taken and pricing. You can use a motorbike, use a train or bus to get from Hue which has fast online booking. Don't miss out.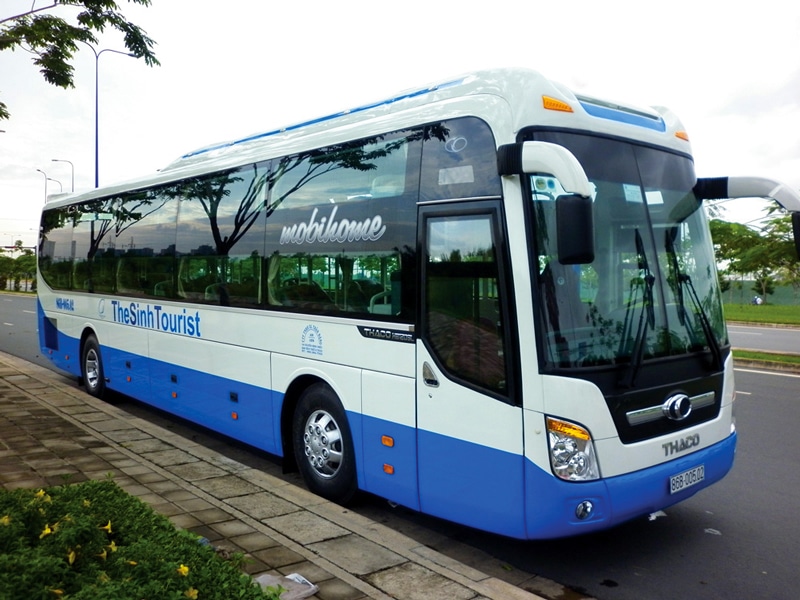 How far is Da Nang from Hue?
Hue city has been associated with its dreamy and ancient beauty. It's located next to the Perfume River, Hue becomes a central tourist destination that attracts tourists. Not as crowded and bustling like Ho Chi Minh city or Hanoi. However, Hue's beauty has always been admired due to the Huong River and its historical Ancient walled city.
Da Nang is 100 km from Hue, which the best city to live and travel. It's the fourth largest city in Vietnam. Da Nang marks the halfway point between the capital in the north, Hanoi, and Ho Chi Minh City in the south.  Apart from some shopping highlights and historical sights, the main reason for most travelers staying here is its proximity to the well-known My Khe Beach, Lang Co Beach, Hoi An, and My Son.
How to get from Hue to Da Nang
Traveling from Hue to Da Nang by motorbike
Travel by motorbike from Hue to Da Nang is really good ways. If you want to fully experience the feeling of conquering Hai Van Pass, this is the best mean of transport. You can rent a motorbike with the cost is about 10$ – 15$ per one.  It just takes about 3-hour traveling by motorbike from Hue to Da Nang. Travel by motorbike you can flexibly stop at many points on the pass for visiting, sightseeing, rest, etc.
Tips for the backpacker: you should also check your motorbike to ensure safety. Going down the pass should go very slowly, go with a low number, usually one and two.
Traveling car from Hue to Da Nang taxi/private
Another way travel from Hue to Da Nang is using taxi/private car. It takes you about 2 – 3 hour. You will experience with comfortable and modern vehicles, minivans… Travel by taxi from Hue to Hoi An cost about 85$ – 100$.
If you have a private car, then you can drive it directly to Da Nang. Unlike bus, you can stop by and admire beautiful sceneries along the way if you drive your car.
Traveling from Hue to Da Nang by train
The railway from Hue station to Danang station is about 103 km. There are 4 trains including SE1, SE3, SE5, and SE7 (which belong to Reunification Express train) on this route. They daily depart and take about 2,5 – 3 hour. With prices depending on how many seats are available. You should try to book at least a couple of days in advance. The seat types include the hard seat, the soft seat, hard berth (6 berths in a cabin) and the sort berth (4 berths in cabin). All carriages and cabins are air-conditioned with comfortable seats/berths. Hue railway station address at No. 2 Bui Thi Xuan Street, Hue City, Hue Province

Tips for the backpacker:  You should book window seats to the left of the train if you are heading south from Hue. Book right one if heading north from Da Nang for the best views.
Traveling from Hue to Da Nang by bus
Travel by bus is popular transportation for tourists traveling from Hue to Da Nang. You can choose a local bus or open bus for the trip to Hue. The ticket cost is a bit difference between the two. There are many bus scheduled departing every 30 minutes to 1 hour. here are many bus companies in Hue. If you choose the local bus, you might save a bit because you could to travel to the bus station by taxi. You could choose a bus which picks you up at your hotel.

Where to buy tickets
There are 2 main ways to buy bus tickets Hue to Da Nang as follows:
Buy direct bus tickets
You can buy tickets directly in… However, this may take time to get there, as well as you might fall into a position of not getting the appropriate bus time.
In addition, you can buy tickets directly at the place you are staying with the help of the receptionists, or it is best to call the bus company directly to book tickets. That way, your booking will be faster and more proactive.
Buy online bus tickets
You can buy tickets online easily via websites such as vexe.vn, vexere, 123go, baolau.com, dichung… In particular, you can immediately message Thổ Địa Du Lịch to book a bus ticket, we will help you book tickets quickly and conveniently.
Thanks for reading the article: How to get from Hue to Da Nang written by me. If you find the article useful, please share it and click like +1. Read another articles like How to get from Ha Noi to Hue…