Hello, my name is Tony Hai, the Founder of Viettravelo. My biggest passion is traveling and I have set foot on every province in the country. In this article, I will share with you the most common ways to go from Ha Noi to Ha Long. Hope these sharing will be helpful for your upcoming trip to Ha Long Bay.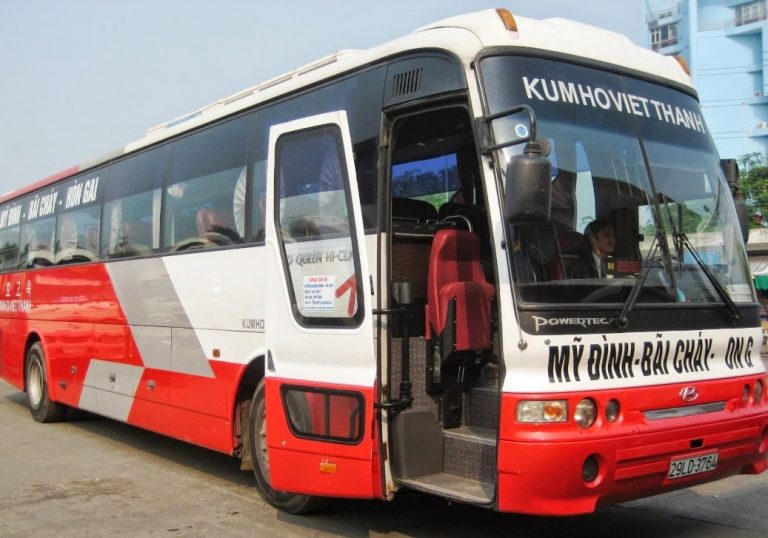 How far from Ha Noi to Ha Long? What means are available?
Ha Long belongs to Quang Ninh province, it is about 156km from Hanoi. Ha Long is best known to be one of the 7 natural wonders of the world. Ha Long Bay in Quang Ninh Province, is a complex consisting of extremely majestic and lively small islands, many beautiful caves such as Hang Trong, Sung Sot Cave, and many beautiful coral reefs. From Hanoi, you can ride a bus, train or travel by private means such as a car or motorbike to get to Ha Long.
From Ha Noi to Ha Long by train
This is a public mean used by many people in the country. Take the train, you will have the opportunity to see the beautiful roadside. However, it will take you about 7 hours to travel from Hanoi to Ha Long by train. So this is not an ideal choice for travelers.
Tourists can book train tickets via website: dsvn.vn or buy the tickets directly at the station. Visitors can go to Gia Lam Station to buy a train ticket from Hanoi to Ha Long. The average fare for a train for Vietnamese tourists is 5 usd/way, while for foreign guests it is 15 usd/ way.
From Ha Noi to Ha Long by private car / taxi / motorbike
With rental vehicles such as cars or taxis, you will easily reach Ha Long within about 4 hours. Although hiring a taxi or car will give you a private space, but this is not the best option for those who want to save money.
For tourists who are more adventurous, motorcycles are ideal means for them. However, the distance of 156km from Hanoi – Ha Long will make the driver tired, affecting the quality of the trip. Not to mention, driving a long distance is always potentially dangerous.
From Ha Noi to Ha Long by bus
Buses are the most popular means to travel from Hanoi to Ha Long. There are a lot of Hanoi bus companies going to Ha Long and vice versa. Here are some suggestions from our Travel Advisor:
| | | | | |
| --- | --- | --- | --- | --- |
| Departure time in Ha Noi | Bus brand | Type | Price | Phone number |
| From 05:00 a.m – 18:30 p.m: 30 minutes/trip | KumHo Việt Thanh | Seater bus | 120.000 vnđ | 0243 5333 888 |
| From 05:30 a.m – 20:45 p.m: 1 hour/trip | Hùng Đức | Sleeper bus | 120.000 vnđ | 0977 355 355 |
| 05:30 a.m | Xuân Trường | Sleeper bus | 120.000 vnđ | 0986 039 292 |
| 22:00 p.m |  Ka Long | Sleeper bus | 230.000 vnđ | 0367 988 889 |
How to buy tickets for bus from Ha Noi to Ha Long?
You can choose one of two ways to purchase tickets:
Buy direct bus tickets
You can go to Nuoc Ngam / My Dinh bus station, or your car's Hanoi office and buy tickets directly. However, this is quite inconvenient because you will have to move to the bus station yourself and may have to wait a long time, unable to catch a satisfactory or low-priced bus. To avoid that, you can book a car ticket through the reception at your place of residence, or call the car directly to book, so it will be faster and more convenient.
Book tickets online or through a reputable dealer
There are many convenient booking websites such as vexere, 12go.asia, saodieu.vn, … You can access the website, enter the departure point, destination and departure date to choose the desired ride. A very convenient way is that you can contact the Travel Advisor's Office (Tho Dia Travel) to book a ticket at your request and do not need to pay in advance.
Thank you for reading the article How to get from Ha Noi to Ha Long. Have a nice trip! If you find the article useful, please share and rate 5 stars for me.